Case Studies
Pomellato
20th anniversary of the iconic Nudo collection
Flying Colours held a 'Top Women in the City' event with leading Italian fine jeweller, Pomellato at their New Bond Street store.
The evening celebrated the 20th anniversary of the iconic Nudo collection and  introduced the new Nudo Chocolate.
Guests also had the opportunity to have a personal consultation with a Colourist.
Champagne and canapes were served.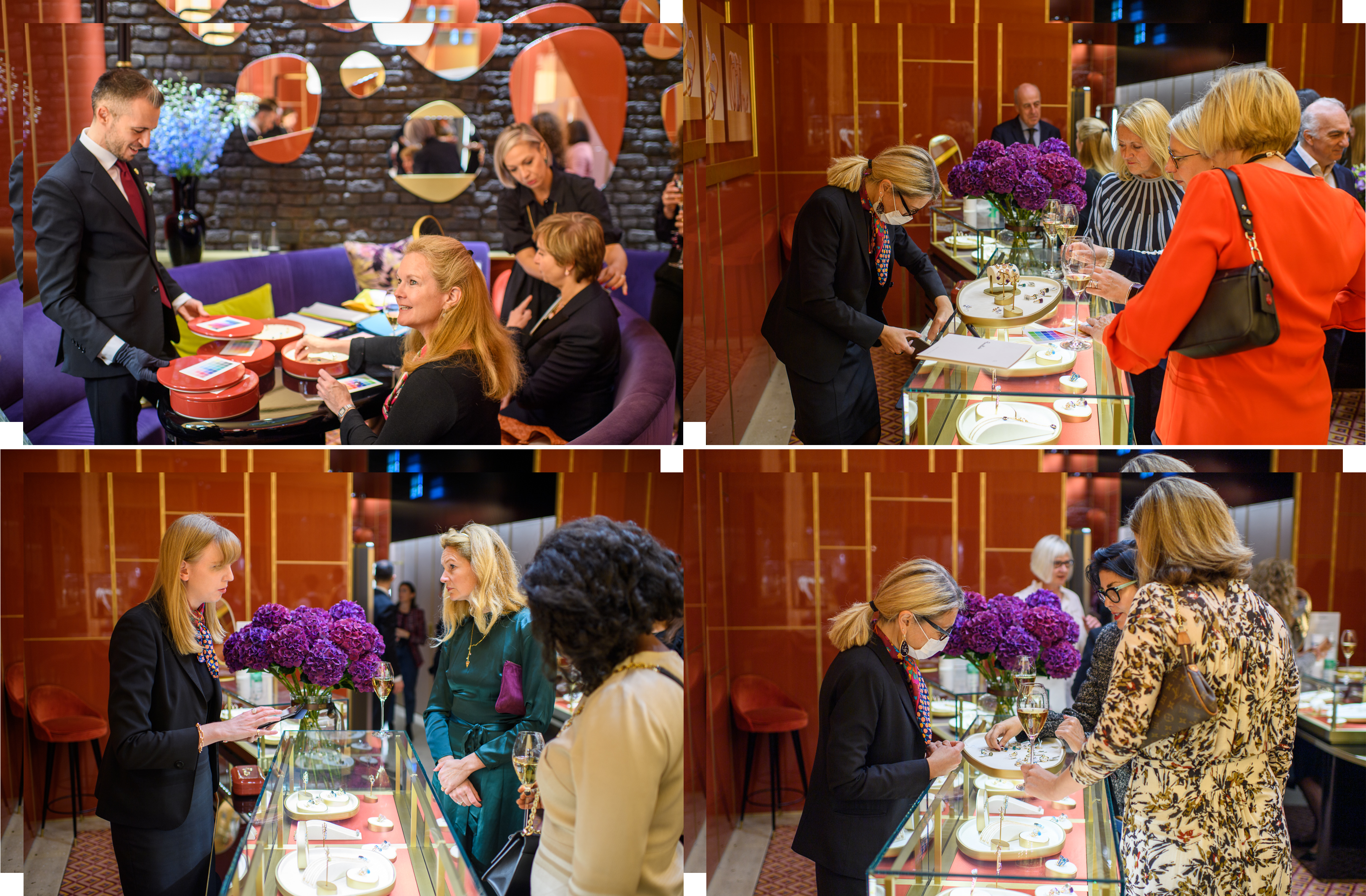 THEORY
BE HEARD event
Senior City women were invited to a private event with American designer, Theory, at their recently opened, Regent Street, flagship store.
This was the UK's first in the New York event series, BE HEARD.
Guests had the unique opportunity to hear Kate Stephens, CEO of charity, Smart Works, discuss networking, self-belief, having a career plan and taking risks with Vanessa Vallely OBE from We Are the City.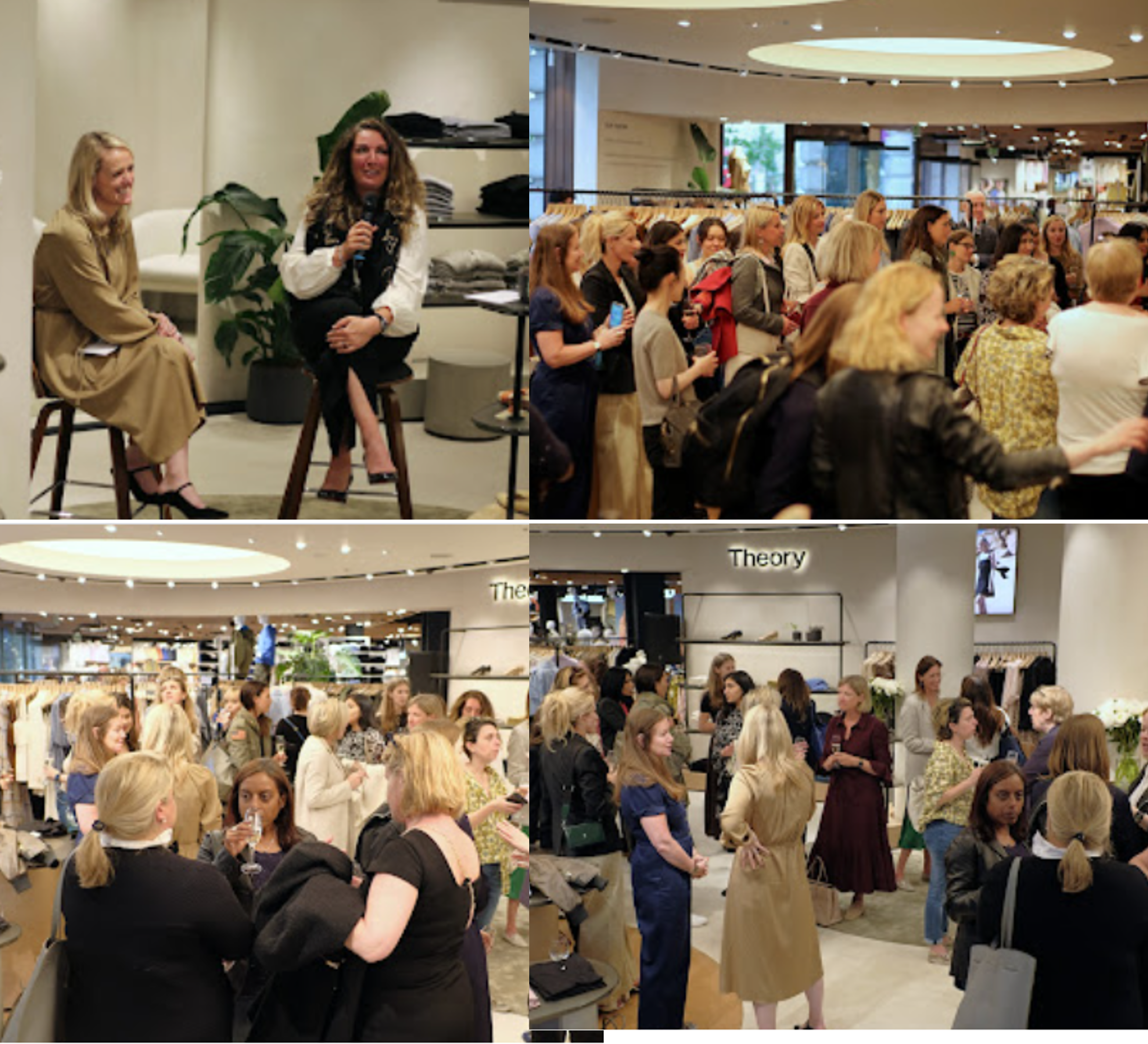 ME+EM
Introduction to the Winter Collection
47 female 'City High Flyers' attended a champagne and canapé reception at ME+EM's New Cavendish Street store.
ME+EM's latest Winter pieces were displayed and shop staff were on hand to give styling advice.
Guests had the unique opportunity to personally meet and chat with the Founder and Creative Director of ME+EM, Clare Hornby.
Many of the attendees took advantage of the 15% purchase discount on the night and future styling appointments were made.
"Lovely event yesterday evening – thank you. I am extremely pleased with my purchase … and only wish I had purchased more!" Clare M. Solicitor.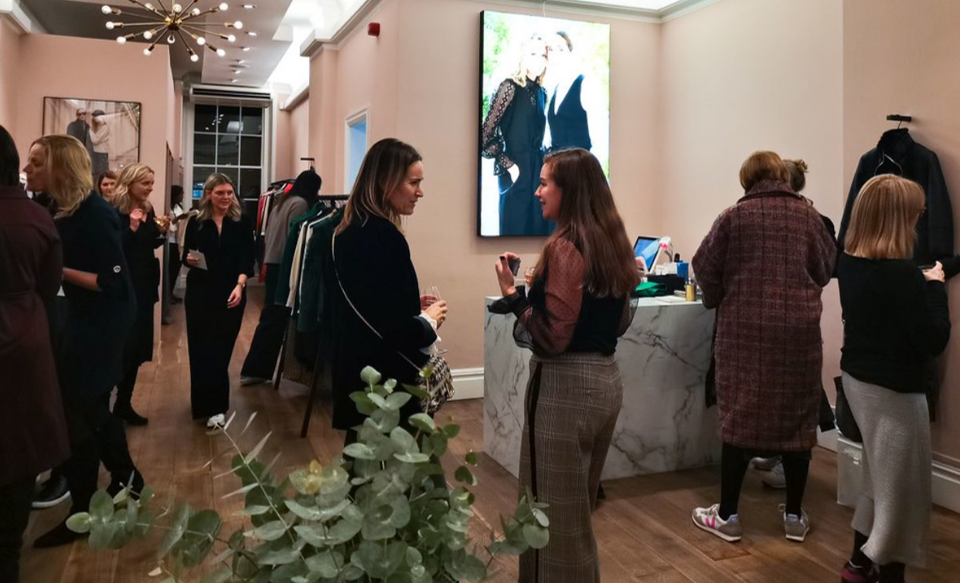 Diageo
Johnnie Walker Blue Label
Flying Colours hosted two dinners in conjunction with with Johnnie Walker Blue Label at the Michelin * HIDE Restaurant for event organisers and corporate gift purchasers.
Guests had the opportunity to taste Johnnie Walker Blue Label cocktails and special editions, which were paired with a bespoke tasting menu by Co-Founder & Executive Chef, Ollie Dabbous.
Each guest received a personalised bottle of Johnnie Walker Blue Label.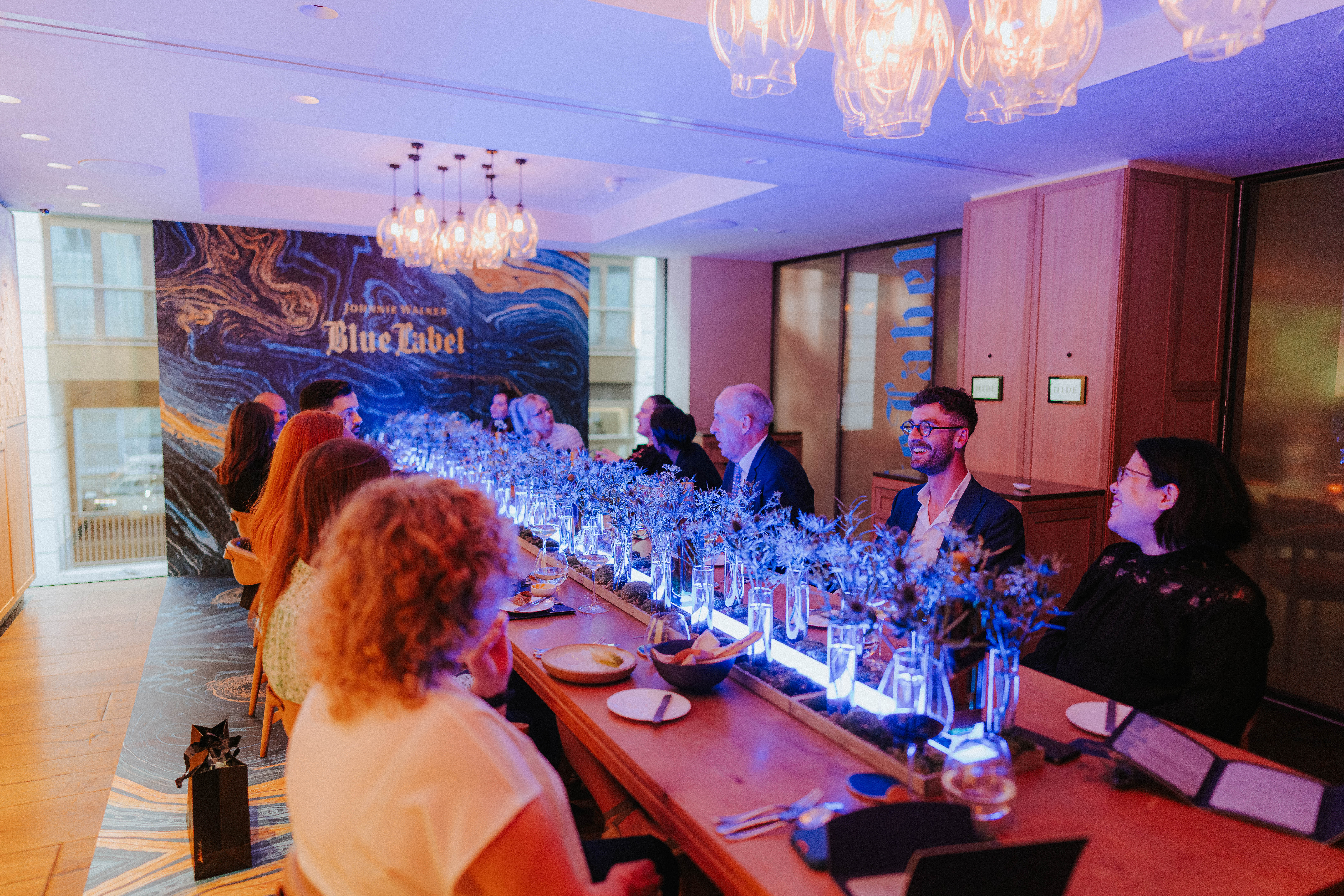 J.P. Hackett
Tailoring Event
54 senior City men attended an event with designers of luxury English clothing, J.P. Hackett at their Saville Row townhouse.
The evening focused on Hackett's tailoring and guests had the opportunity to meet founder, Jeremy Hackett and experience a demonstration of bespoke tailoring.
Gordon & MacPhail hosted a tasting of 3-4 rare hand-crafted whiskies.
There was a prize draw for a Hackett jacket and a bottle of Benromach 25 Year Old. Guests were also offered a £50 Hackett gift card.
"This was the best event we have ever had" Jonathan Loe, Head of J.P. Hackett.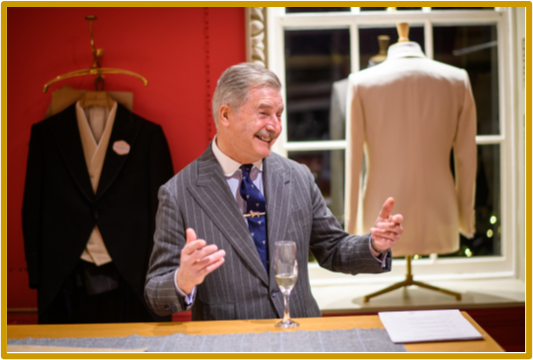 The Fold
Flying Colours hosted a 'Top Women in the City' event in conjunction with The Fold, designers of contemporary, luxury British clothing which inspires the modern professional woman.
Lizzie Edwards, one of London's premier Personal Stylist and Image Consultants, gave her expert advice on dressing and packing for travel. Beauty brand, Caudalie were available to give guests mini skin consultations and Antler showcased some of their latest luggage.   
Guests received a 15% discount off any purchases made on the night and there was also an opportunity to win a 'City Break Kit'.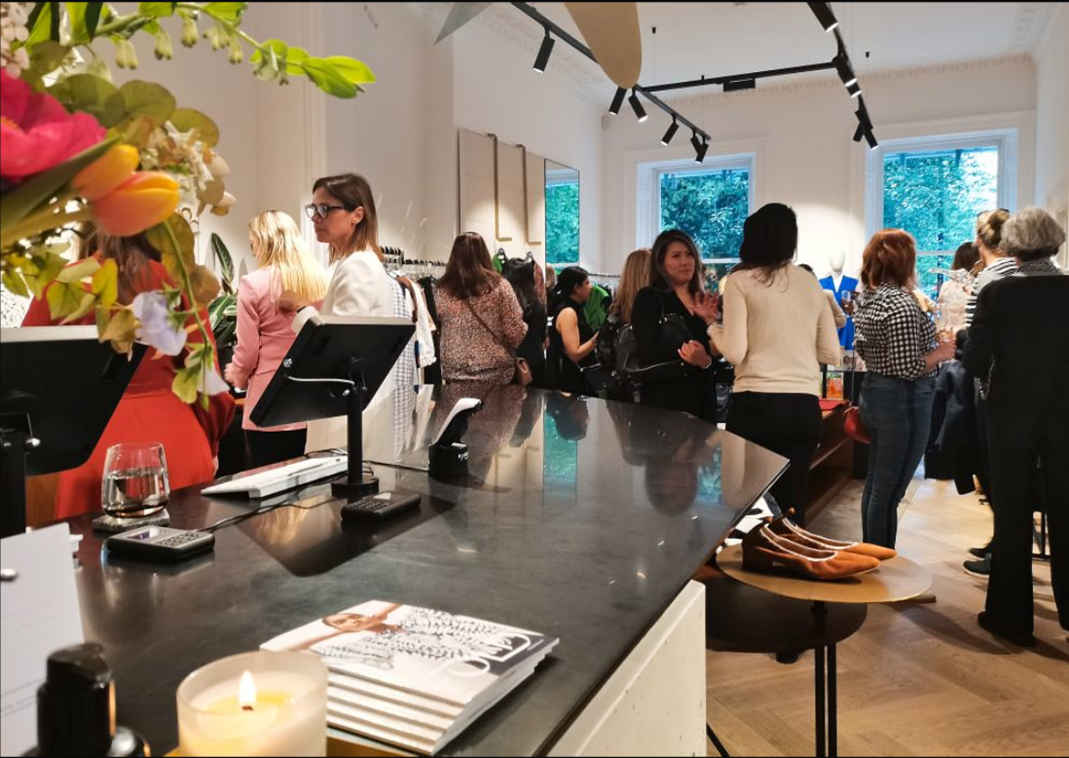 Church's
New Loafer Collection
Flying Colours held an exclusive event for Senior City Men with Church's, the creators of the finest timeless, handmade luxury shoes  at their Jermyn Street store.
Guests were introduced to the new Church's Loafer collection including the unveiling of completely new designs
A Church's Artisan demonstrated the construction of and the correct way to care for a Church's shoe.
.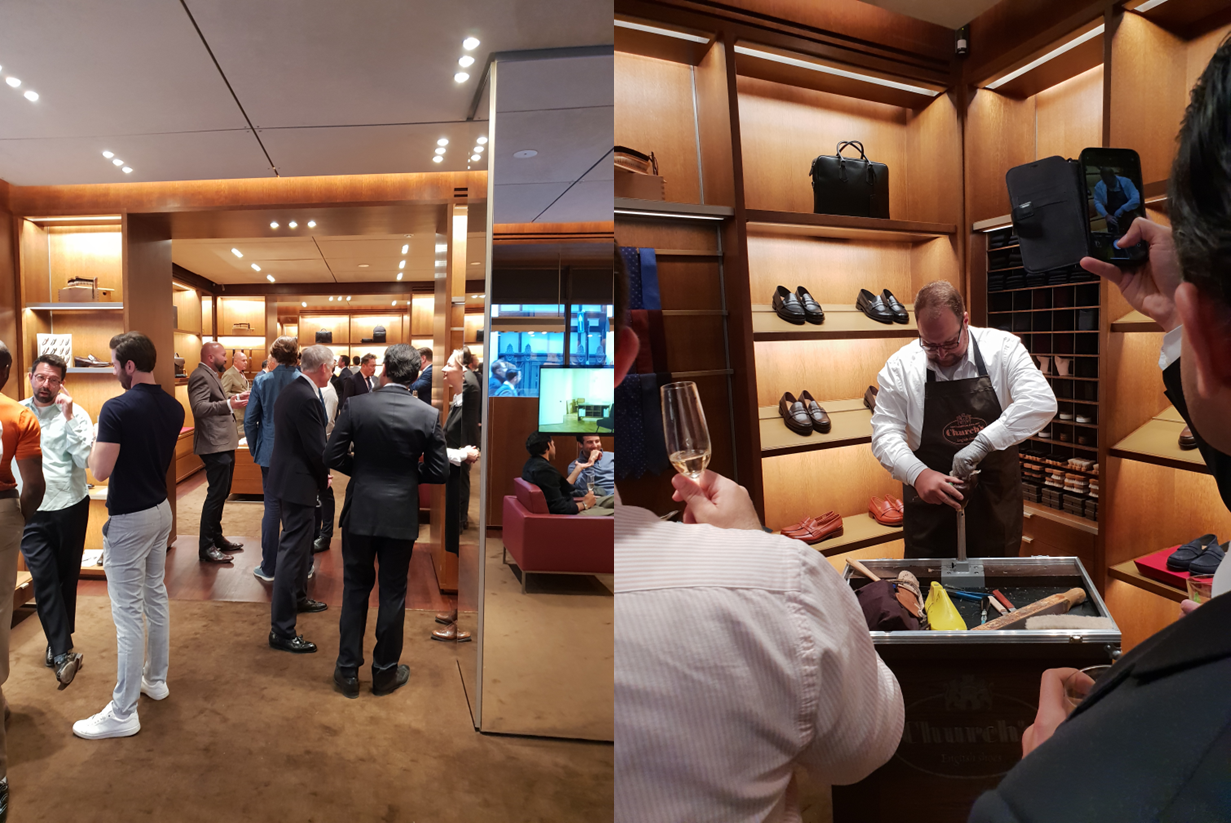 David Morris
'Top Women in the City' Champagne Reception
Flying Colours invited 30 selected 'Top Women in the City' to a champagne reception with David Morris, creators of British jewellery.
Charlotte Metcalf, film director, producer and writer, hosted a panel of experts which included family member, Erin Morris, Marcio Quintela, the sort-after fashion stylist and David Morris Brand Director and Jewellery designer, Susie Otero. The panel gave the guests inspiration on how to integrate fine jewellery with their whole wardrobe.
There was a prize draw to win a personal shopping/ styling experience with Marcio Quintela.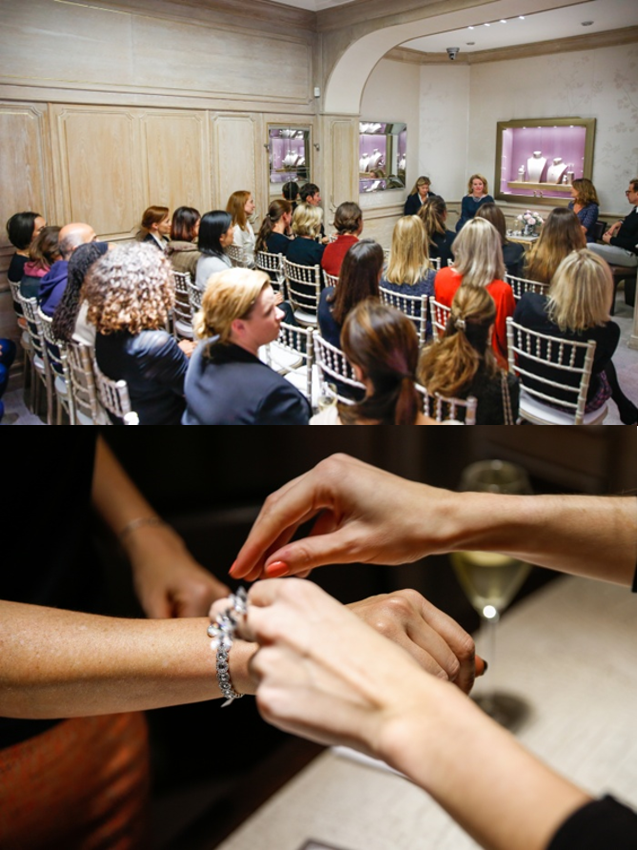 Christian Louboutin
An evening of pampering, champagne and shopping for The Somerville College City Network
Tamara Fulton, Brummell Fashion Editor, introduced the key designs of Christian Louboutin's Spring/Summer collection and gave one-on-one styling advice throughout the evening.
Champagne and canapés were served and a representative from Margaret Dabbs, footcare specialist, was on hand to give foot massages.
"Thank you for your support organizing the event and bringing the lovely Somervillians to our boutique. The team really enjoyed their presence and I am so pleased to hear that positive feedback. It was apparent that they enjoyed themselves and the event was an incredible success."
Kimberly Mansfield, Customer Service Manager, Christian Louboutin.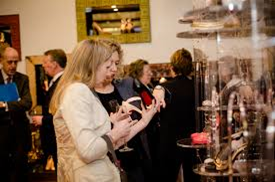 BURBERRY
An audience with Nile Explorer, Levision Wood
Around 160 City professionals attended an audience with Nile Explorer, Levison Wood.
Drinks and canapés in the central atrium of the Burberry flagship store on Regent Street.
Selected pieces from the latest Burberry collections were on display.
Levison Wood was interviewed by Adventure Travel Writer Ash Bhardwaj having recently completed a 4,000 mile walk along the Nile. Channel 4 broadcast a series covering this huge feat which was also detailed in Levison's book, "Walking the Nile".
"Thank you for extending the invitation to an outstanding event last night. My visit first to that particular Burberry store and I know it will not be my last! What an inspiring setting, brand, and of course speaker." Director, Deutsche Bank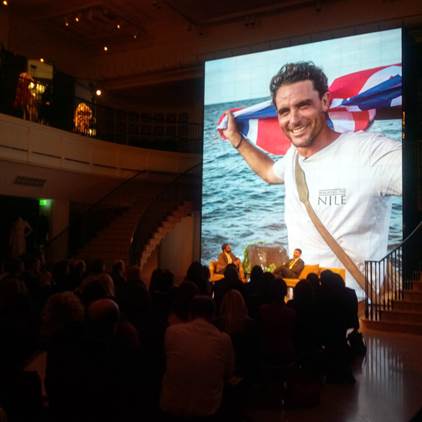 AQUASCUTUM
The Launch of Aquascutum's Made to Measure Tailoring
Thomas Harvey, Aquascutum Head of Menswear Design introduced their new Made-To-Measure tailoring service.
Simon Coughlin, CEO of Bruichladdich Islay single malt whisky, introduced the brand and hosted a whisky tutorial and tasting.
"Thank you for last night, it was a great turnout and hopefully will encourage people to spread the word about the brand and get them to visit the sore to shop the brand!"
Elise Hamer, Senior Marketing & PR Executive, Aquascutum.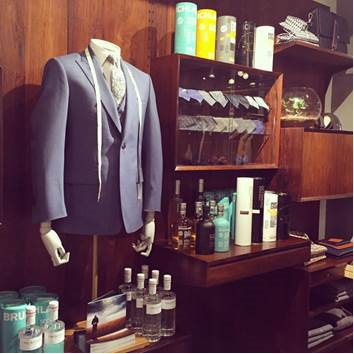 BALL WATCH CO.
An event to discover BALL Watches range of fine timepieces
An exclusive City networking event was held with the BALL Watch Company in the Fieldmarshall's Room at the Cavalry & Guards Club.
Guests had the opportunity to discover Ball Watches' new range of fine timepieces and Ball brand ambassador and world champion free-diver Guillaume Néry will gave an insight into swimming to the bottom of the sea with no oxygen.
A 20% discount on selected models was available to guests on the night and for a period following.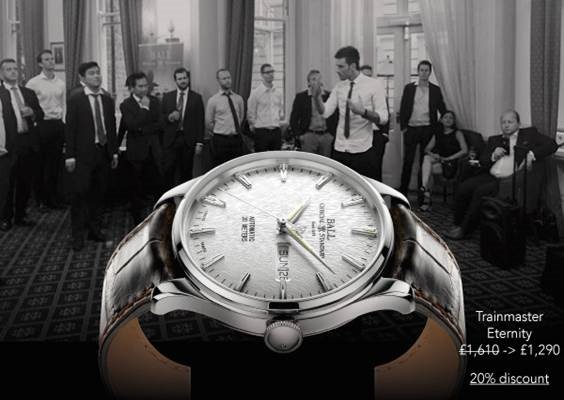 DAKS
An introduction to the new collection
Guests were introduced to the new DAKS collection which included pieces made from a Shetland wool transfigured check designed exclusively for DAKS by Jamieson's of Shetland. A purchase discount was offered on the night.
Luxury cosmetics brand, Suqqu, as used by DAKS on the runway,  hosted two beauty stations for mini makeovers. For the chaps, renowned barber, Truefitt and Hill, offering gentlemen's grooming.
The highlight of the evening was a talk by Scottish record breaking Explorers, Luke and Hazel Robertson who gave guests an insight into their adventures and achievements.
There was also a prize draw on the night and drinks and canapés were served along with Gin tasting with Eden Mill and Fentimans.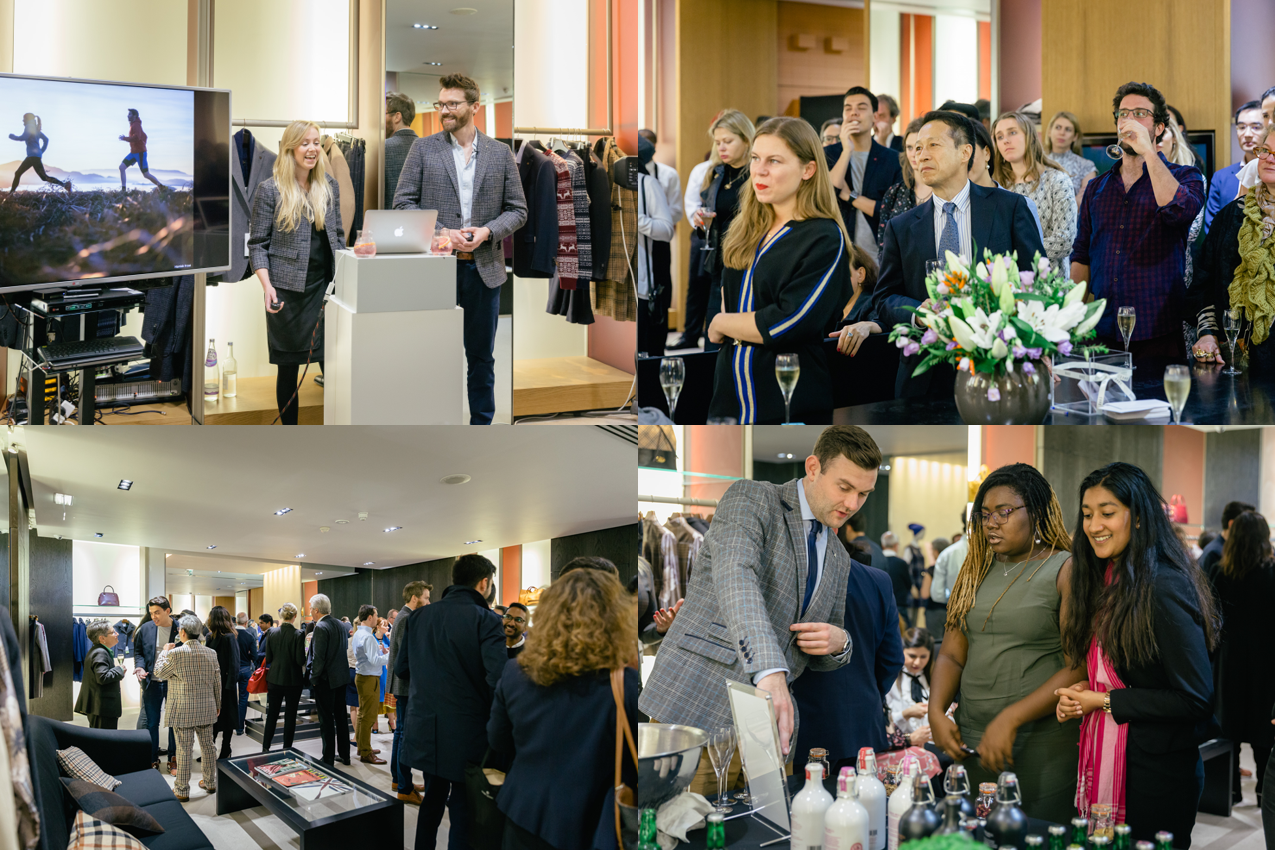 Tom Ford Beauty
An event to celebrate the opening of Tom Ford Beauty's first Beauty store
Flying Colours in conjunction with Tom Ford Beauty held and event to celebrate the opening of Tom Ford Beauty's first stand-alone store in Covent Garden.
The focal point of the evening was their new make-up collection "the Eyes of Tom Ford". Tom Ford beauty experts were on hand to create a seasonal party look to take guests from desk to dance floor and to provide inspiration for that perfect Christmas gift.
Champagne and canapés from Ladurée were served.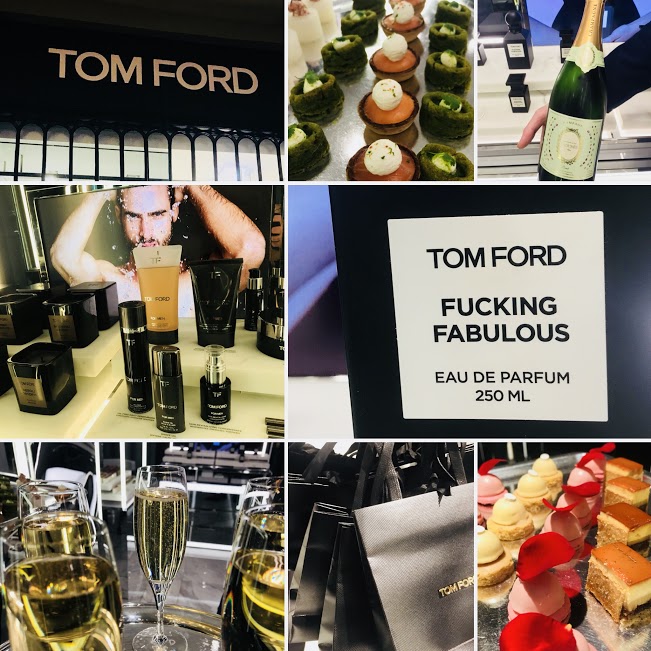 Jaeger-LeCoultre
Introduction to the new Jaeger-LeCoultre Reverso by Christian Louboutin
The 'Top Women in the City' were invited to a  networking event with one of the leading creators of luxury Swiss timepieces, Jaeger-LeCoultre at their Old Bond Street flagship boutique.
Guests will be introduced to the new Jaeger-LeCoultre Reverso by Christian Louboutin.
Christian Louboutin gave our senior ladies complementary manicures using their Rouge Louboutin Nail Polish.
.
Champagne and canapés were served.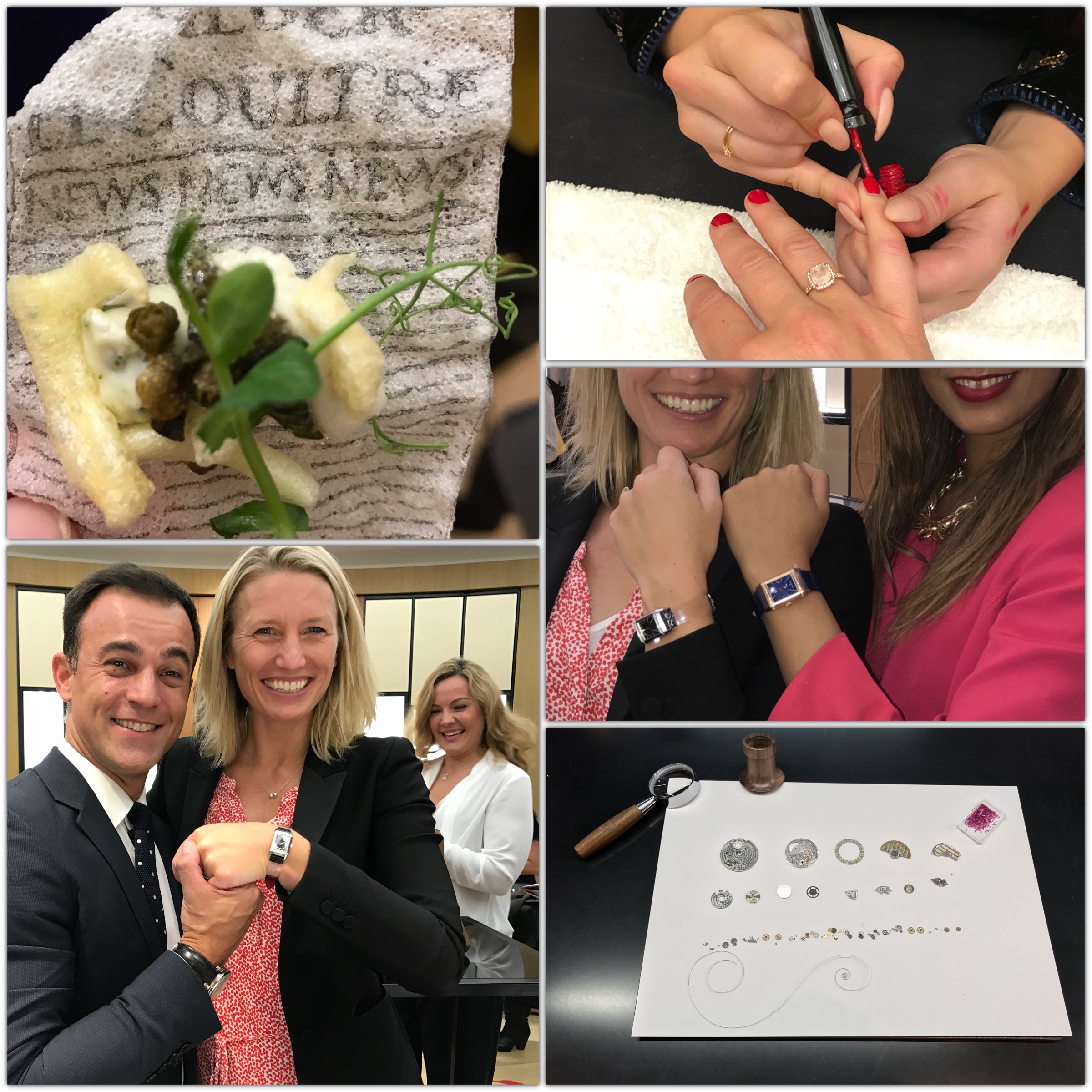 Introhive
A virtual Event post Dreamforce
Flying Colours held a virtual event with software development company, Introhive. The aim of the event was to provide a stylish, engaging and educational interaction to further develop networking and sales opportunities from connections made at Dreamforce.
A week prior to the event, 40 Introhive guests were sent 3 miniature bottles of sparkling wine (Prosecco, Champagne and a Cava) from Mix and Match along with a box of selected Paul. A. Young handmade chocolates in an Introhive branded box.
The one hour virtual event started with a 20 minute welcome
from Introhive, recapping on the learnings from Dreamforce.
Paul Keighley, mixologist, from Mix and Match then teamed up
with Paul. A. Young, English chocolatier, to taste the wines and
pair them with selected chocolates.
"Thank you everyone for all of the hard work and for a
fantastic event! We will definitely be planning another one."
Rachel, Introhive
Chopard
Celebration on International Women's Day
Chopard hosted a suite at the Langham Hotel with a Make-up Artist, Hair Stylist and Red Carpet Photographer a la Cannes Film Festival.
40 Top Women in the City attended the event.
Opportunity to try on and purchase from the latest Chopard watch and Jewellery collection and be photographed. Caroline Scheufele hosted the event.
There were considerable sales on the night and data-caputure, whilst Chopard were so pleased they held another event soon after.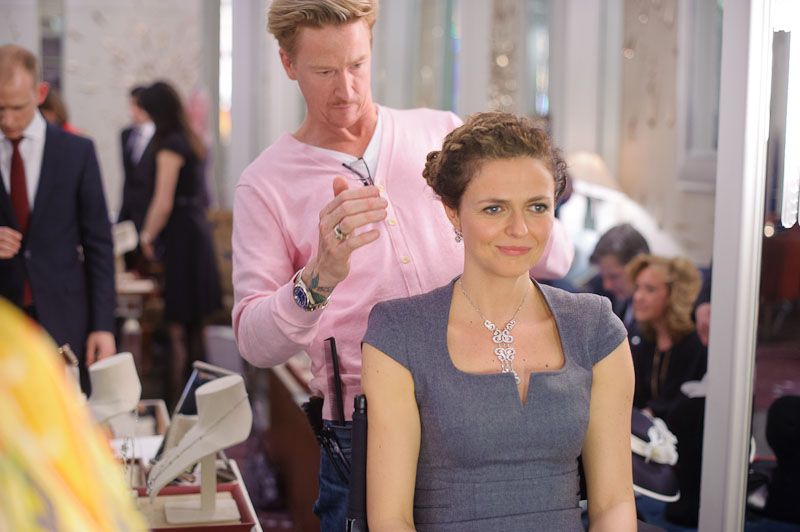 Watches of Switzerland
An event to showcase the Rolex novelties collection to Chinese City professionals
An evening drinks reception for 25 Chinese City professionals, men and women, hosted by Watches of Switzerland at their new store at 22 Canada Place, Canary Wharf.
The focal point of the event was the showcasing of the Rolex novelties collection launched at Baselworld.
Watches of Switzerland arranged for a Rolex sponsored backdrop in front of which guests could have their photo taken wearing a selected Rolex watch. The photos were then uploaded onto the social networking site, WeChat to share with friends and family.
"An enjoyable evening shared with many Rolex enthusiasts." Paul Young, Rolex UK Regional Manager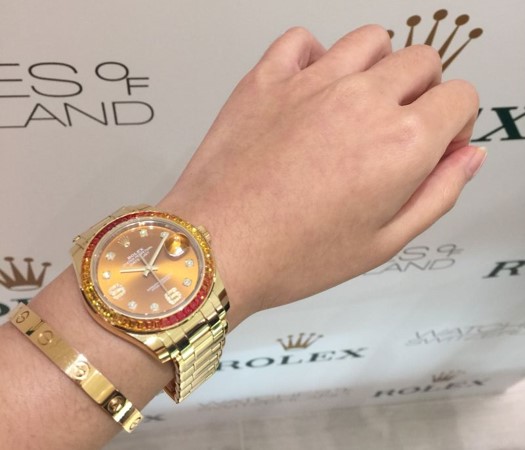 Celebrity Cruises
A special networking event with Celebrity Cruises for LGBT City professionals.
The evening, held at one of London's newest business clubs, 12 Hay Hill, gave guests the opportunity to experience Celebrity Cruises and their amazing on-board experience, stunning voyages and locations.
This was complemented by a speaker from the charity 'Opening Doors London' who gave our guests an insight into how it helps and supports the older generation of the LGBT community.